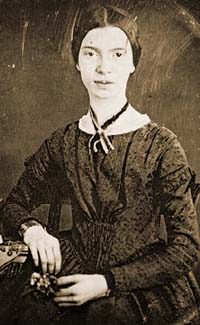 On this day in 1830 was born in Amherst, Massachussetts, a girl named Emily Dickinson, raised Unitarian, confirmed Christian as a teenager, and a veritable prophet who gave us a collection of poems that could rightfully be called America's book of Psalms. 
Her simple yet profound spirituality — and her legendary reputation as a mysterious, ghostly personage that people referred to as "The Myth"  — place her prominently among the figures revered by the Reform. 
Below are reproduced some of her insightful lines, followed by perhaps her most inspired poem:
Some keep the Sabbath going to Church —
I keep it, staying at Home —
With a Bobolink for a Chorister —
And an Orchard, for a Dome —
ω
'Tis Beggars—Banquets—can define—
'Tis Parching—vitalizes Wine—
"Faith" bleats—to understand!
ω
Our Lord—indeed—made Compound Witness—
And yet—
There's newer—nearer Crucifixion
Than That—
ω
My period had come for Prayer—
No other Art—would do—
My Tactics missed a rudiment—
Creator—Was it you?

God grows above—so those who pray
Horizons—must ascend—
And so I stepped upon the North
To see this Curious Friend—

His House was not—no sign had He—
By Chimney—nor by Door
Could I infer his Residence—
Vast Prairies of Air

Unbroken by a Settler—
Were all that I could see—
Infinitude—Had'st Thou no Face
That I might look on Thee?

The Silence condescended—
Creation stopped—for Me—
But awed beyond my errand—
I worshipped—did not "pray"—