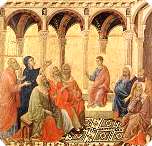 As happens roughly once every four years or so in Reform Unitarianism, Candlemas is falling on Carnival Thursday.
In most Christian churches, Candlemas celebrates only the presentation of Jesus at the Temple as a baby by Mary and Joseph.  However, AUR also celebrates another Temple-related event on this day: the Disputation, when a 12-year-old Jesus debated the Torah with Jewish elders.
In this way, both biblical narratives of the life of Jesus between the Nativity and Ministry are brought together on one day, the first Thursday in February.  Candlemas is a special day for celebrating children and childhood, and particularly for recognizing the maturation from helpless infancy to the assertive character of youth.
Carnival, on the other hand, has traditionally been for revelry of a more exuberant and adolescent nature, and in AUR a moment of respite between the Winterval fast starting on Resolution Day and the Lenten fast beginning Ash Wednesday.
Candlemas-Carnival Conjunct!
From the canonical scriptures, we know nothing of Jesus' youth after the Disputation.*  But, there are clues in his later ministry as to how he spent his youth, clues that bring Christian meaning to Carnival … and a little Carnival spirit to an often-staid and dry Christianity.
In the Gospel of Matthew (11:18-19), Jesus is recorded as saying:
John came neither eating nor drinking, and they say, 'He has a demon!'  The Son of Man came eating and drinking, and they say, 'Look, a glutton and a drunkard, a friend of tax collectors and sinners!' Yet Wisdom is vindicated by Her deeds.
Jesus clearly liked good drink, good food, and interesting company!
This is, of course, not to endorse the vicious extremes of drunkenness or alcoholism, but as part of a general celebration of the pleasures of God's Creation, including food, music, and the company of our neighbors, Carnival certainly has Christian meaning with a liturgical connection to the life of Jesus himself.
_
NOTE: Carnival celebrations for Reform Unitarians should not start (or continue, in years when Carnival begins before Candlemas) until after 6 p.m. that on Candlemas Thursday.
_
* Non-canonical "infancy" Gospels, however, contain some interesting (if dubious) tales.