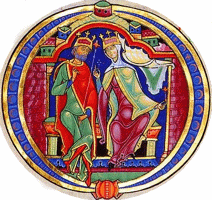 Today is Music Thursday, the 8th Day of Carnival, a day for celebrating life in song!   Music has a strong role in Carnival traditions, particularly in the Americas.
But, that music, and Carnival celebrations in general, often have sexually aggressive content that might make some uncomfortable, or be inappropriate for family Carnival parties with children present.
Sexual expression is a touchy issue at any time, but during holidays when sex tends to come out in to the open, it creates unnecessary tensions between folks who might otherwise get along nicely.
And, let's be clear: choosing to be sexually moderate and modest doesn't make you a prude, so long as you're not invading someone else's private space with your preference.  People have differing attitudes toward sex, toward violence, and a variety of other touchy subjects, and this is just part of living in a diverse society.
In fact, those of us who find the sexual innuendo in Carnival-type soca and calypso music amusing might nevertheless hesitate to play such music around our more conservative friends and family.  So, how can we celebrate Carnival musically and still "all just get along"?
It might take a little extra care — for example, watching those [EXPLICIT LYRICS] messages — but with some investment of time one can put together a nice mix of music that avoids those cringe-worthy moments when you suddenly realize that the song that just popped up on the playlist isn't exactly ready for prime time.
Some might want to take it one step further, and keep Carnival's celebration explicitly religious, particularly if organizing Music Thursday parties for church.  It's hard to find music with a specifically Unitarian message, but for those who want music with a Christian sensibility and a Carnival-appropriate feel, artists like tobyMac and Fiji can fill out a playlist.
There is even plenty of Christian soca, Carnival's own music, a fast-paced Caribbean dance style that traces its roots back to calypso.  A good sampler collection can be found on a CD called "Soca Baptism."
But, however you choose to celebrate the music of the season, AUR wishes you and yours a Joyous Carnival!