Scripture and homily in brief for the Thursday before St. Andrew's Day, the eve of the Advent/Christmas Season.
Gospel of John 1:35-41
35 The next day John was there again with two of his disciples.
36 When he saw Jesus passing by, he said, "Look, the Lamb of God!"
37 When the two disciples heard him say this, they followed Jesus.
38 Turning around, Jesus saw them following and asked, "What do you want?" They said, "Rabbi [which means "Teacher"], where are you staying?"
39 "Come," he replied, "and you will see." So they went and saw where he was staying, and they spent that day with him. It was about four in the afternoon.
40 Andrew, Simon Peter's brother, was one of the two who heard what John had said and who had followed Jesus.
41 The first thing Andrew did was to find his brother Simon and tell him, "We have found the Anointed."
42 And he brought him to Jesus.
Homily in Brief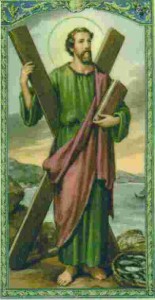 Andrew is not the most well-known Apostle. However, he was the first disciple of Jesus Christ.
It is fitting, then, that the Feast of St. Andrew also be the Eve of Advent, in anticipation of the first idiomatically Christian season of the AUR calendar, Christmas!
Andrew was also the brother of Simon who later became St. Peter, the Rock of the Church. In fact, it was Andrew who introduced Simon to Jesus.  During the holiday season, as we wish good will toward all, St. Andrew's Day reminds us to begin close to home, with our siblings.
On St. Andrew's Day, let's look forward to the Season. (And, do something nice for your siblings!)